| | |
| --- | --- |
| | Goodbye to HP's ACO |
Update: In 2003, HP started selling calculators branded with the HP logo, but with the design and manufacture contracted out to the Taiwanese/Chinese company Kinpo Electronics. While HP calculators are still being sold after the death of HP's calculator division, they are no longer designed in-house but instead come from an outsourced OEM/ODM. This web page remains online for historical reasons, but HP as a brand of calculators has not died and will not disappear anytime soon.
---
The end of HP calculators?
Many have wondered about the future of HP calculators. The last official ROM for the HP49G was released in May 2000. Aside from unofficial beta ROMs released by the developers personally, nothing new has come out at all from HP's calculator division since mid-2000.
That end seems to have arrived. As to whether HP will resume calculator development again, nobody knows. As much as I hope something new will arrive from HP someday, I wouldn't be surprised if this really is the end.
The first HP calculators were designed at the "Advanced Product Division" (APD) in Cupertino, CA, USA. For overcrowding reasons, the employees were transferred to the Corvallis, OR, USA, offices in September, 1976. Development continued in Corvallis through the HP48G/GX, which were released in 1993. After 1993, HP decided to move calculator operations to Singapore. The HP38G, released in 1995, was the result of a joint venture between HP Corvallis and HP Singapore as an attempt to help "train" the Singapore staff in calculator design. Unfortunately, Singapore did nothing on its own after this.
In November 1997, HP Australia decided to revive calculator operations. The Australian Calculator Operation (ACO) was formed. ACO scoured the HP48 user community to find the best programmers of calculator software and hired them. Jean-Yves Avenard, Gerald Squelart, and Cyrille de Brebisson, all creators of Meta Kernel, were hired directly, and Mika Heiskanen and Bernard Parisse, creators of ALG48 and Erable, respectively, contributed from outside HP. This was one of HP's last super-smart business moves -- find the best people for the job and hire them.
Although ACO initially started out small (the 48G+), they went on to redesign several older HP calculator products to reduce production cost (the 12C and 17BII, among others). Their first big project was the 49G. Other notable releases were the 39/40 and the 30S. They also worked on a number of projects which were eventually cancelled, most publicly the Xpander.
In 2000 and 2001, things really started to sour. With the Xpander cancelled just weeks before its release, the renaming of ACO to Appliance and Calculator Operation to reflect the smaller significance of calculators, and the desire from HP management to only participate in markets where HP can dominate, ACO was doomed. ACO was pretty much shut down in 2000 anyway, given the lack of anything new since then.
On November 1, 2001 (USA time), Jean-Yves and Gerald announced to the public that ACO was being shut down, effective November 9th. They only had one week notice. Below are their respective newsgroup posts.
---

From: avenar_j@epita.fr (Jean-Yves Avenard)
Newsgroups: comp.sys.hp48
Subject: Good bye ... I leave HP
Date: Fri, 2 Nov 2001 11:33:52 +1100

Dear all..

So that's it.. My big adventure with HP will be over as of November, 9th
2001 (after 3.98 years).

Gerald (WarlockHP) and myself will fly alone starting our own business.

I will still try to answer questions here regarding the HP49 and the
HP39/40.
If I have time, I will try to release a last ROM before leaving (1.19-7).

In the meantime, if you have any business opportunities that may be in our
competencies (embedded software, network security, sytems, java etc...) do
not hesitate to contact me directly at this address:
jyavenard@hotmail.com (until I get my own domain name).

Best regards
Jean-Yves

(original post)
---

From: squelart@hotmail.com (Gerald Squelart)
Newsgroups: comp.sys.hp48
Subject: Goodbye ACO...
Date: Thu, 1 Nov 2001 22:39:32 -0800

It's indeed a sad day for ACO...
Due to difficult business condition, it has been decided to close ACO.
All employees here are made redundant. We have one week to pack,
except for a few people who will help for the transition of our
existing work to other divisions.
What does it mean? Well, I'm not sure myself, but calculators should
still be produced, at least for some time (it's already handled
independently of ACO). As for our current project, I hope other people
will be able to finish it... It's a really cool thing, too bad I can't
say anything about it ;-)

As Jean-Yves told you, we are taking this change as an opportunity to
start our own adventure. I'd appreciate if you can help us in any way.
And we'll keep in contact with you all!

If you want to email me, please use my hotmail address:
squelart@hotmail.com

Finally, please have a thought for all my colleagues and wish them
luck in finding new jobs.

Thanks for your support,
Gerald.

Carpe diem

(original post)
---
Not a whole lot of information was shared, and there was a lot of confusion in the newsgroup as to the future of HP calculators. Basically, what I have been able to see is this:
All development of HP calculators has been halted, so no new models will arrive.
Production may or may not have ceased. If it has ceased, it won't be hard to restart again since production is in a different department. If it has not ceased, the current situation is really no different from the mid-90's, when development also was halted.
Customer service and control of distribution have been transferred to HP's Palo Alto, CA, USA, offices.
Note that there have been reports of HP taking back supplies of calculators from stores. I don't know anything about the truth behind these rumors, but if these rumors are true, it's certainly not good. Also remember that HP had some fairly substantial rebates on its calculators in the summer of 2001.
---
My personal opinion is that HP died when it split off Agilent. It was really the only division left that was still innovative and still following the HP Way. All that's left of HP now is a company that makes poor quality computers and cheap (and some not-so-cheap) printers. I bet Bill Hewlett and Dave Packard are rolling in their graves right now.
Finally, in mid-November 2001, Hewlett-Packard released its official view on ACO. Notice that the president of HP's EPS doesn't even know what ACO stands/stood for! I guess this shows how much HP cared about a division that actually could innovate. Below is this release:
---
MESSAGE FROM IAIN MORRIS
President, HP Embedded and Personal Systems Group (EPS)
I wanted to take this opportunity to address several inquiries I have received from hp calculator fans regarding hp's recent closure of the Australia Calculator Organization (ACO). First of all I'd like to begin by saying that HP is not exiting the calculator business! The decision to close our office in Melbourne is a separate issue and not related to our ability to deliver calculators worldwide. This was not an easy decision to make, but the continuing tough business climate has forced hp and many companies to make painful cost reductions and to consolidate efforts wherever possible.
HP will continue to deliver calculators and remains committed to the business. The business model, channel strategy and sales and marketing activities will remain the same.
I appreciate your feedback and loyalty to the hp brand, and look forward to your continued support.
Iain
---
Notice that nowhere in here does he mention that the calculators will continue to be manufactured. He only says they will continue to "deliver" the calculators. For all we know, this means they will only "deliver" existing stock of calculators. And when they're gone? I don't even want to think about it. I hope they continue making them, but I don't know how long it will continue.
Also, considering that marketing was pretty much non-existent already, I don't see how that can possibly change. And channel strategy? What channel strategy?
Joshua Schoolcraft forwarded me responses from two different HP employees regarding the closure of ACO. Below are the almost contradictory messages.
---
Thank you for your feedback re this decision.

As a result of continued challenging market decisions, HP has taken the
decision to rationalise its research and development operations and to
consolidate these activities in Singapore and the U.S.

This has resulted in the closure of the Appliance and Calculator Operation
in Australia.  Calculator research and development will still continue -
just not in Australia.

Yours sincerely,

Shan Taig

 ***************************   Shan Taig
*******   _/          *******  Customer Feedback Support
*****    _/             *****  & Escalation Coordinator
****    _/_/_/  _/_/_/   ****  Level 3, 
****   _/  _/  _/  _/    ****  351 Burwood Hwy
****  _/  _/  _/_/_/     ****  Forest Hill, VIC 3131
*****        _/         *****  
*******     _/        *******  email: cfs_administration@hp.com
 ***************************   Phone:  +61 3 8877 5105
    i   n   v   e   n   t      Fax:    +61 3 8877 3513
---
From: acoceo_support@am.exch.hp.com

Hello,

Thank you for contacting HP's Customer Care e-mail support.

Your e-mail from the corporate office has been forwarded to the 
technical support division for consideration.  At this time, the 
technical support division of HP has not been informed of any changes 
within the calculator department.  Officially, we have no knowledge that
ACO has come to an end.  I cannot comment upon any rumors that you may 
have read on the internet that state otherwise.  Inquiries of this 
nature really need be responded to by the corporate office.  I do not 
know why they chose to refer your e-mail to us.

If you need further assistance, please reply to this message.  You may 
also find technical and troubleshooting information along with software 
updates, on our HP Customer Care Web site at:

http://www.hp.com/

Best regards,
Alex
HP Customer Solutions Team
---
Sigh. Multi-paragraph responses that say what could be said in one sentence. Oh well.
Remember that HP is the only manufacturer of RPN calculators. RPN dies with HP unless we do something. As to what we can do, I have no clue.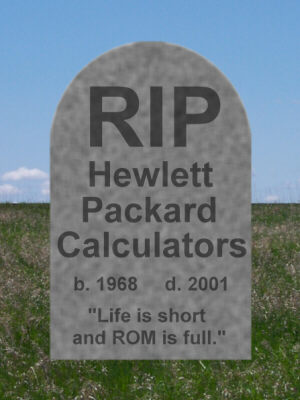 (quote from Bill Wickes of HP Corvallis, April 4, 1990)
Part of the HP Calculator Archive,
Copyright 1997-2023 Eric Rechlin.